Analisis: Cardano 1.5 'Project Shelly' Akankah Dapat Mendongkrak Harga Cardano (ADA)?
Harga Cardano stabil tetapi bullish
Pengembangan dan pelepasan konsekuen dari Cardano 1.5 test-net positif
Volume rata-rata rendah, pompa harus disertai dengan volume di atas 210 juta
Project Shelly berada di cakrawala berkat Cardano 1.5. Itu berarti protokol konsensus yang ditingkatkan yang mungkin dapat mendorong Cardano (ADA) di atas 4,5 sen menuju 6 sen.
Analisis Harga Cardano
Fundamental
Bitkece – Cardano istimewa itu benar. Buktinya berserakan di seluruh web, dan ketika mereka terus meneliti, prioritas mereka bukan pada kecepatan tetapi kualitas. Meskipun mereka mengakui bahwa komunitas adalah tulang punggung mereka, mereka tidak mengambil risiko pada kualitas. Setiap rilis harus melewati fase pengujian yang ketat di bawah pengawasan Charles Hoskinson dari IOHK. Charles adalah pakar crypto dan blockchain yang dikenal, seorang tokoh penting dalam Ethereum Classic.
@justinsuntron you guys should use our mantis client instead of Ethereum Java https://t.co/u2e2pObqYE the code is much better, security audited and consensus is pluggable for a DPoS style protocol.

— Charles Hoskinson (@IOHK_Charles) June 25, 2018
Sudah tiga tahun sekarang, dan setelah penelitian aktif dan trailblazing, pengujian Cardano 1.5 menandai akhir fase pengembangan Byron ketika Project Shelly membuat jalan melalui pintu. Rilis tertunda, tetapi akhirnya, ada kepuasan bahwa tahap pengembangan selanjutnya aktif.
Oleh karena itu, Cardano 1.5 adalah sebagai tonggak penting yang memungkinkan transisi protokol konsensus yang tepat dari Ouroboros BFT ke Genesis yang dirancang untuk Shelly. Genesis unik karena tidak hanya memberi daya pada sistem bukti kepemilikan tetapi juga memberikan keamanan sistem bukti kerja seperti di Bitcoin.
Candlestick Arrangement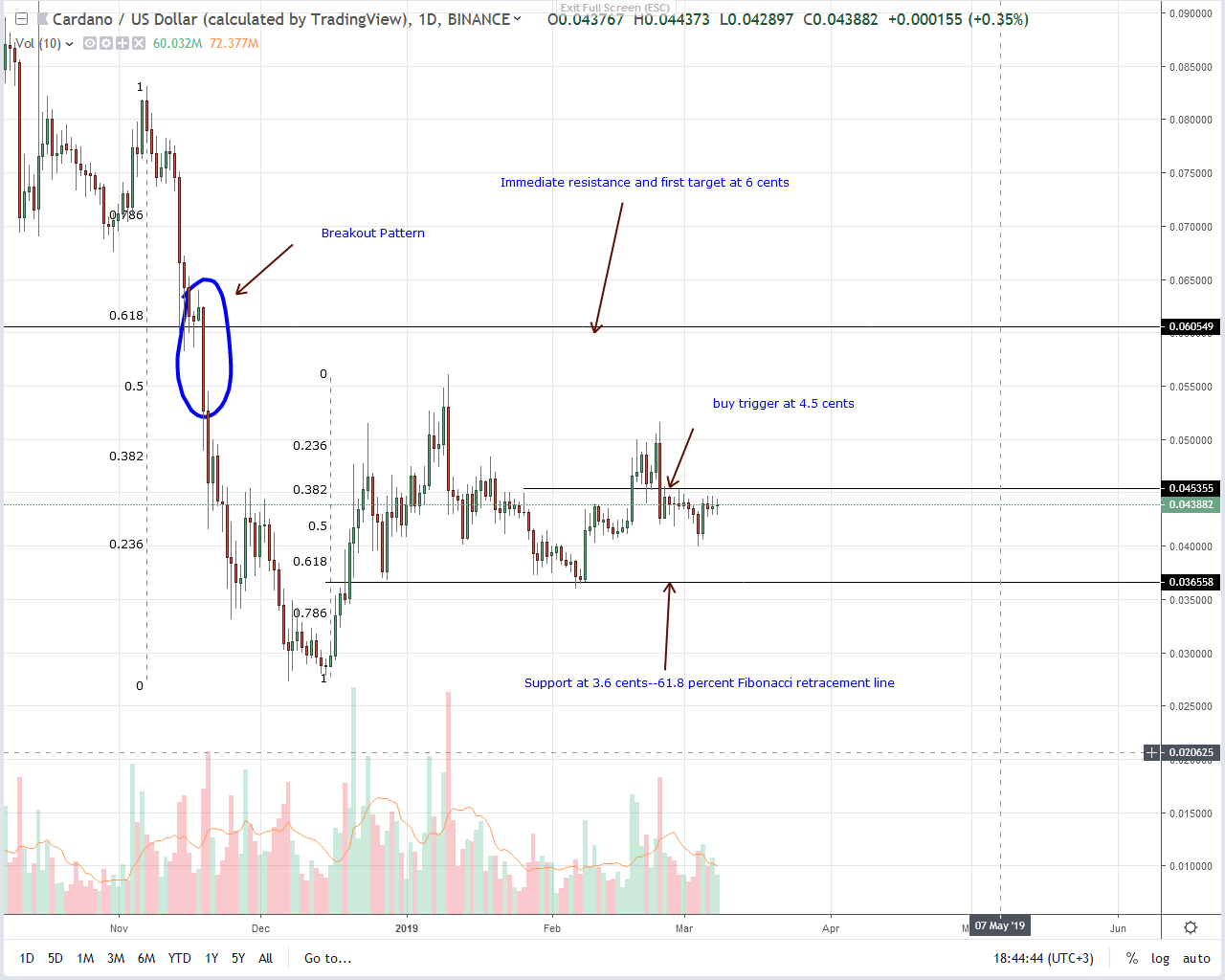 Meski begitu, Cardano (ADA) belum merespons. Seperti kebanyakan pola aset, ADA berada di bawah tekanan 18 hari setelah ditutup di atas 4,5 sen dalam pola penembusan bullish. Meskipun tindak lanjut kerugian mengkonfirmasi 24 Februari memang mengarah ke penarikan lebih lanjut memukul berhenti kami di posisi terendah 18 Februari, pembeli memiliki kesempatan.
Rilis dan pemulihan harga Bitcoin ini sebagian besar memengaruhi prediksi kami. Jika yang terakhir berkembang di atas $ 4.500, kemungkinan besar akan mengangkut orang-orang seperti ADA kembali di atas 4,5 sen.
Itu akan menjadi pola penembusan dan diperdagangkan sejalan dengan tren yang ditetapkan oleh pola pembalikan bull double bar 7-8 Februari. Target pertama akan berada di 6 sen. Sebelum penutupan di atas 4,5 sen ini dicetak, kami akan mempertahankan pandangan netral namun bullish.
Technical Indicators
Meskipun partisipasi meningkat di awal Maret, panduan kami adalah bar beruang 24 Februari. Dengan volume perdagangan yang tinggi — 207 juta berbanding 112 juta, sebuah bilah konfirmasi yang membesar akan meningkat dengan volume transaksi yang sama tingginya di atas rata-rata — 75 juta dan yang paling penting mencapai di atas 207 juta.
[source]